Firstly, Wrecks is now working perfectly – my thanks to Startlogic for a speedy recovery.
Second the comic archive future titles list has been rejigged.
Now here comes the updates, it was pointed out to me the other day by an email that SW was missing the two Tails games from its Music list and could I put the music for Tails Sky Patrol and Tails Adventure up. Well, I certainly can add them to the Depository dear viewer – in fact I thought I had(!)
One at a time though, so here comes your first addition in the form of the Tails Sky Patrol soundtrack.
These tracks don't have much in the way of data unfortunately, no-ones really ever been able to identify them. If you can, please let me know.
NEXT! Sonic Channel updates in the run up to Halloween (you can count on some SW Halloween shenanagins incidentally) they launched a new seasonal wallpaper, something they've not done for yonks!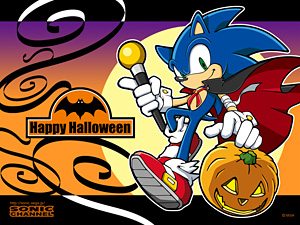 It and the latest Colouring Paper are up in the relevant sections of the Depository.