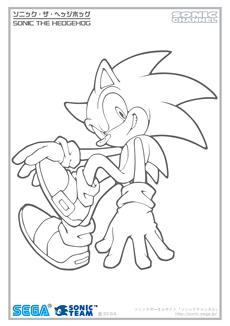 Bizarrely the colouring paper from Sonic Channel is one of Sonic Wrecks' most popular pages, so it only made sense for this to be the first Depository page to get a bit of a spruce up. This was doubly neccessary as there was a couple of Sonic Channel updates I'd yet to add. So you can now help yourself to the 57th and 58th entries, both of which are Sonic related poses.
In other site news, there are more backgrounds done – though the Colouring Paper page should've given you a bit of a clue about that anyway. The new additions are:
Sonic Channel
Sonic Classic Collection
Shadow The Hedgehog
Sonic Mega Collection
Sonic Advance 3
Sonic Triple Trouble
Sonic Rush
Sonic Rush Adventure
Sonic Rivals 2
Sonic Riders
additionally the SEGA Mega Drive Ultimate Colelction one now isn't an incredibly stupid size.