The Sonic Channel wallpapers section has been updated with Octorber 2010's effort from Sonic Team in Japan, next month's background features our very own flaming kittycat Blaze.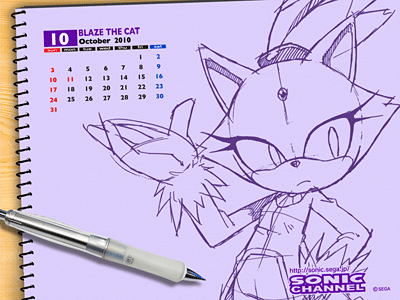 Speaking of wallpapers, wouldn't it be great if there was some Colours wallpapers…? Hmmmm.
In addition I've made some chanegs and fixes that will make it easier for you to do things like making comments on posts, I'm sure you've all seen the addition of the Like buttons (please use those btw) all comments will now definately have the SW logo come up for you, you don't need to have an account to make said comments now.
The images and official artwork section of the Depository is nearing launch, it'll be next to empty at the start but the first thing that'll go in is super-high quality versions of the Wisp artworks.
I've now got my audio software back – and improved, thanks Blake! – so I'll begin getting some of the Radio Redux shows up post-haste as we're well behind.