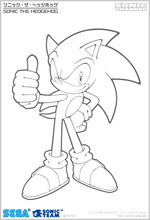 Good news ye of the colouring paper loving persuasion, which apparently is quite a few of you if the traffic is to be believed.
Our friends at Sonic Channel have offered unto up a new wallpaper featuring the blue blur, and you can find this now on the Depository.
In actuality this is Sonic's 23rd colouring paper from Sonic Channel.
Keep it up chaps!